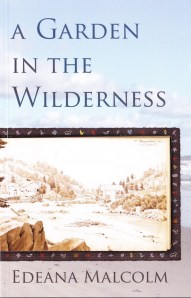 Full disclosure here. The author of the book being promoted in this space happens to be my wife. That said, the historical novel A Garden in the Wilderness by Edeana Malcolm is a must-read by anyone interested in pioneer history. The scene is set in 1790s Canada, Nova Scotia, in fact, but the struggles and challenges of carving out an existence under primeval conditions apply anywhere immigrants went seeking new lives.
This is the "riches to rags" tale of the well-born daughter of an English gentleman who fell in love and eloped with the head gardener of her father's estate, felt the sting of being disowned for her scandalous behaviour, finally ending up in a log cabin in the New World with eight children and the man for whom she gave up her life of ease. It's a lot more than a love story - it's also the story of how ill-equipped settlers faced the challenge of survival in hostile new lands.
The story has a personal connection. The main characters are Edeana's great-great-great-great grandparents - seven generations back. For anyone of immigrant background whose ancestors struggled with new lands, this could be their story, too.
A Garden In the Wilderness is published by Borealis Press in Ottawa, Canada. It is available online at: www.borealispress.com
To read Edeana's blog, My Writing Eden: www.edeana.com